Building Trust
A redesign to improve retention
Overview
A major betting website and mobile web platform approached us with the goal of redesigning their digital presence to improve customer retention and NRC. Our challenge was to create a user-friendly, responsive, and engaging design that would keep customers coming back.
Pain Points
Slow site speed and long load times causing user frustration and reduced engagement.

Outdated design and lack of functionality leading to poor user experience and disinterest.

Inaccurate or incomplete information about odds and payouts resulting in user mistrust.

Insufficient rewards and promotions leading to low customer loyalty and dissatisfaction.

Failure to meet specific user needs identified in surveys, including trial bonuses, smooth transactions, and lack of mobile app causing user frustration and dissatisfaction.
Team
1 UX Researcher

2 UX designers

2 developers

1 project manager
My Role
UX research

Workshop facilitator
Timeline
Overall: 4+ weeks

Discovery & Research: 1+ weeks

Design & testing: 3+ weeks
Net Promoter Score: 26
As a part of our UX redesign project, we knew that understanding our target audience and their challenges was key to creating a successful user experience. With this in mind, we kicked off our research strategy by building a Net Promoter Score (NPS) pop-up survey and sharing it on the brand's homepage for a week in April 2022. The response was overwhelming - with over a thousand submissions in just a few days - and the result was a score of 26.
"I am not sure this site is reliable."
Exit Intent Survey
High Bounce Rate:
Looking at Google Analytics, we noticed that the site bounce rate was quite high.
To gain deeper insights, we ran an exit intent survey between June and July 2022 to understand why people were leaving the website, capture feedback, and reduce the bounce rate by identifying and fixing problem areas.
Insights from Exit Intent Survey:
34% of the respondents said that they were not sure if the site was reliable.

To dig deeper, we followed up with the question: "Why do you think it might not be reliable?"

The responses revealed some key factors that we needed to consider in our redesign, including loyalty programs, live customer service, and user experience & design.
Impact of our Research:
Our research was the foundation of our UX redesign, and we used these insights to create a more engaging, reliable, and user-friendly experience for our audience.

By prioritising the needs of our users, we were able to build a better product that met their expectations and exceeded their needs.
Old Website Accessibility Issues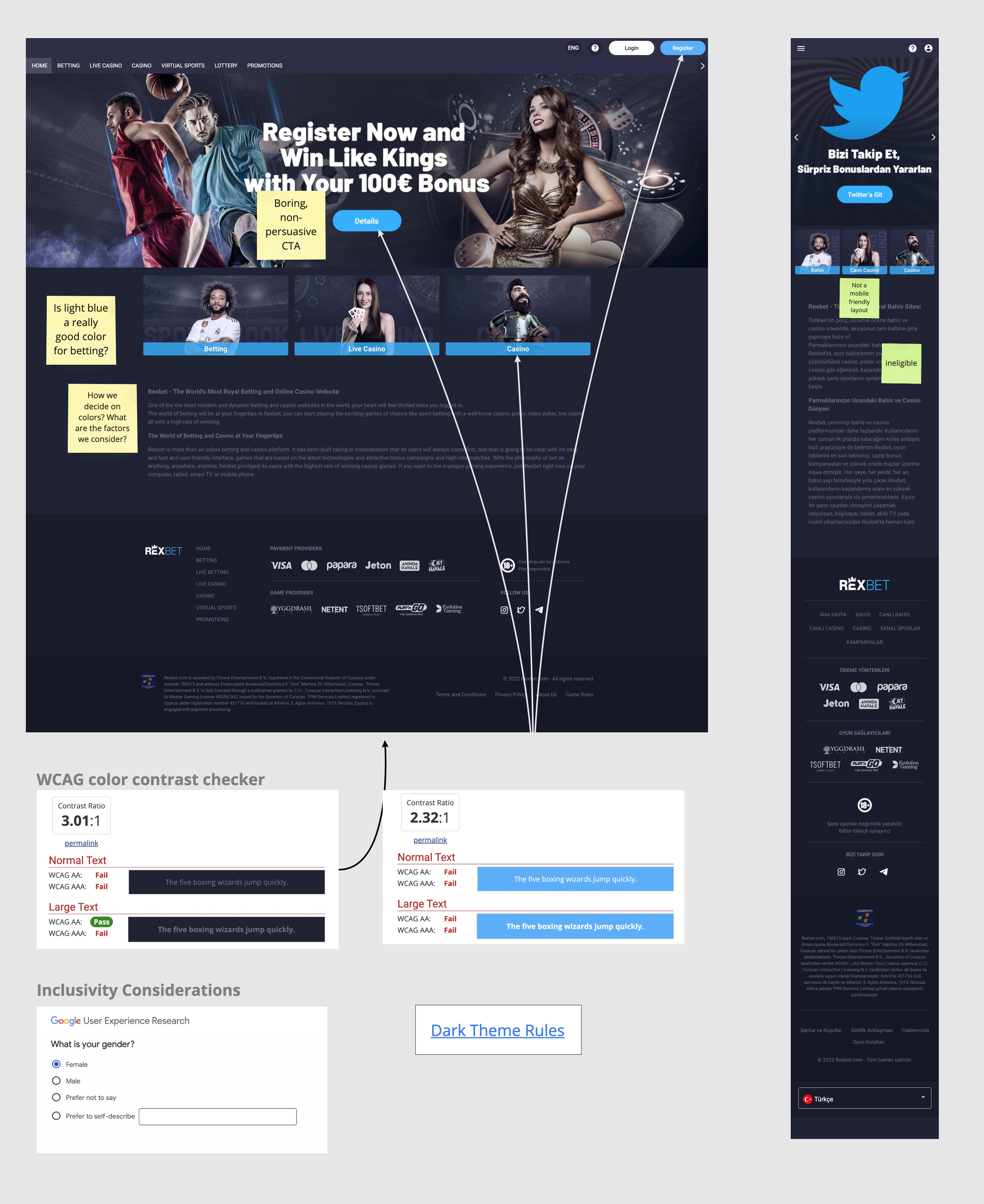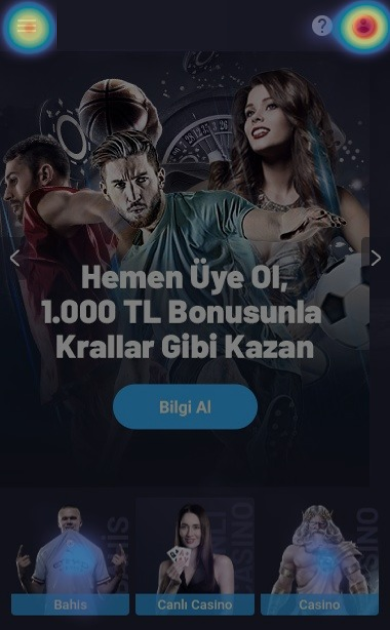 The Carousel Conundrum: Do They Really Help or Hinder User Experience?
During our analysis of the website's analytics, we discovered that the carousel on the homepage wasn't generating much user interaction. Despite the fact that the first slide, which showcased a welcome bonus, was typically the most clicked on, with only 0.05% of visitors clicking through to the bonus page. However, the numbers for the second and third slides decreased even further, with only 0.03% and 0.01% respectively.
We also used Hotjar's heatmap to further investigate how users were interacting with the carousel, and the results were telling. The auto-forwarding carousel provided no indication of how many slides were in the gallery or where the user was in the progression, which went against usability rules regarding affordance and control.
Not only that, but carousels can also slow down site speed due to their dependence on jQuery, which loads all images at the same time. This led us to question whether carousels were necessary on the site at all.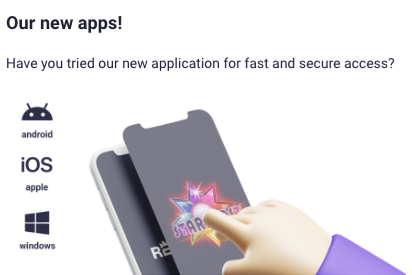 Discovering the App Awareness Gap
Perhaps most interestingly, we discovered that many users were not even aware that the site had an accompanying mobile application, despite it being promoted in the carousel. We ran a survey which revealed that around 60% of respondents were unaware of the app's existence. This led us to reconsider the effectiveness of carousels as a means of promoting the brand's various offerings.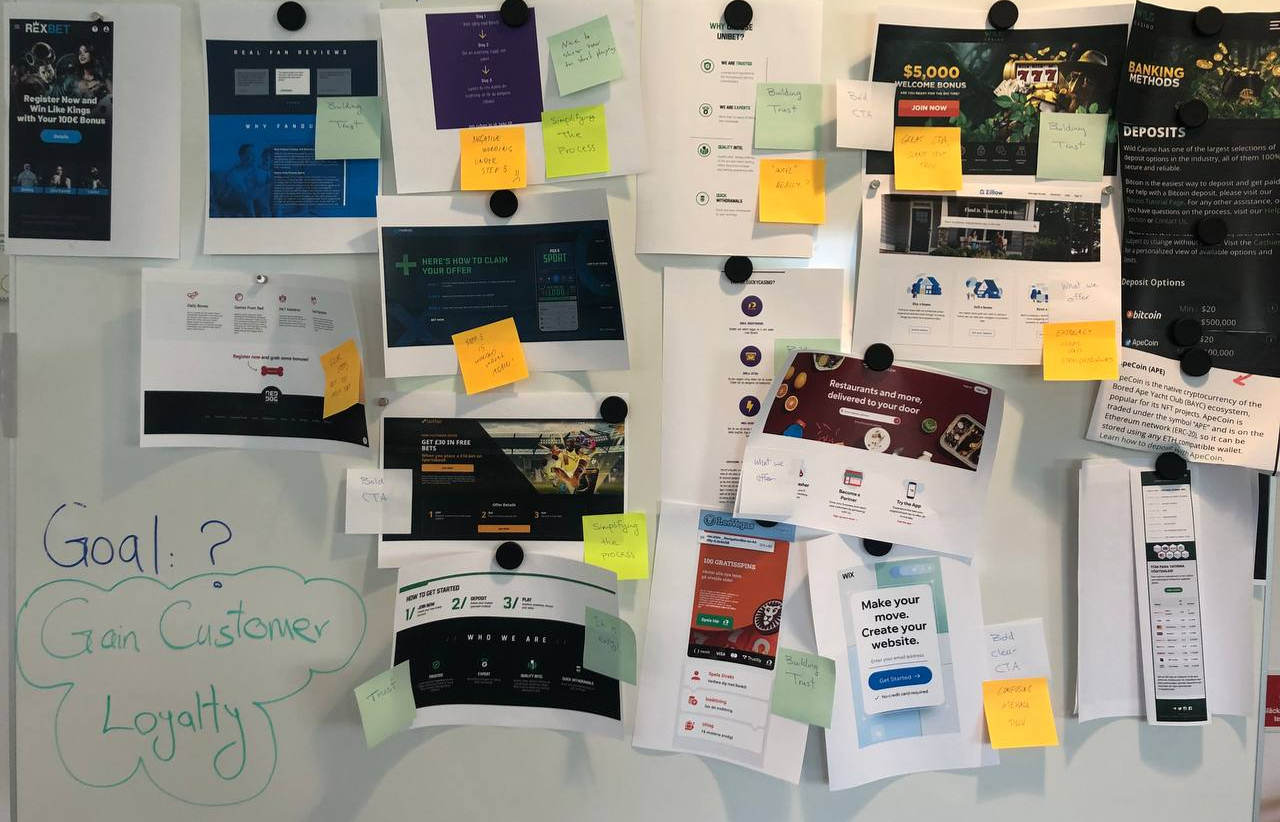 Competitive Analysis
As we delved into the world of UX research, one of our key focus areas was conducting a thorough competitive analysis to understand how our rivals were approaching the market.
Through extensive research, we uncovered some fascinating insights about our competitors' strategies. We discovered that many of them were heavily reliant on their trusted partners and game providers to instill trust in their users. However, we also noticed a significant gap in the market when it came to simplifying the registration process.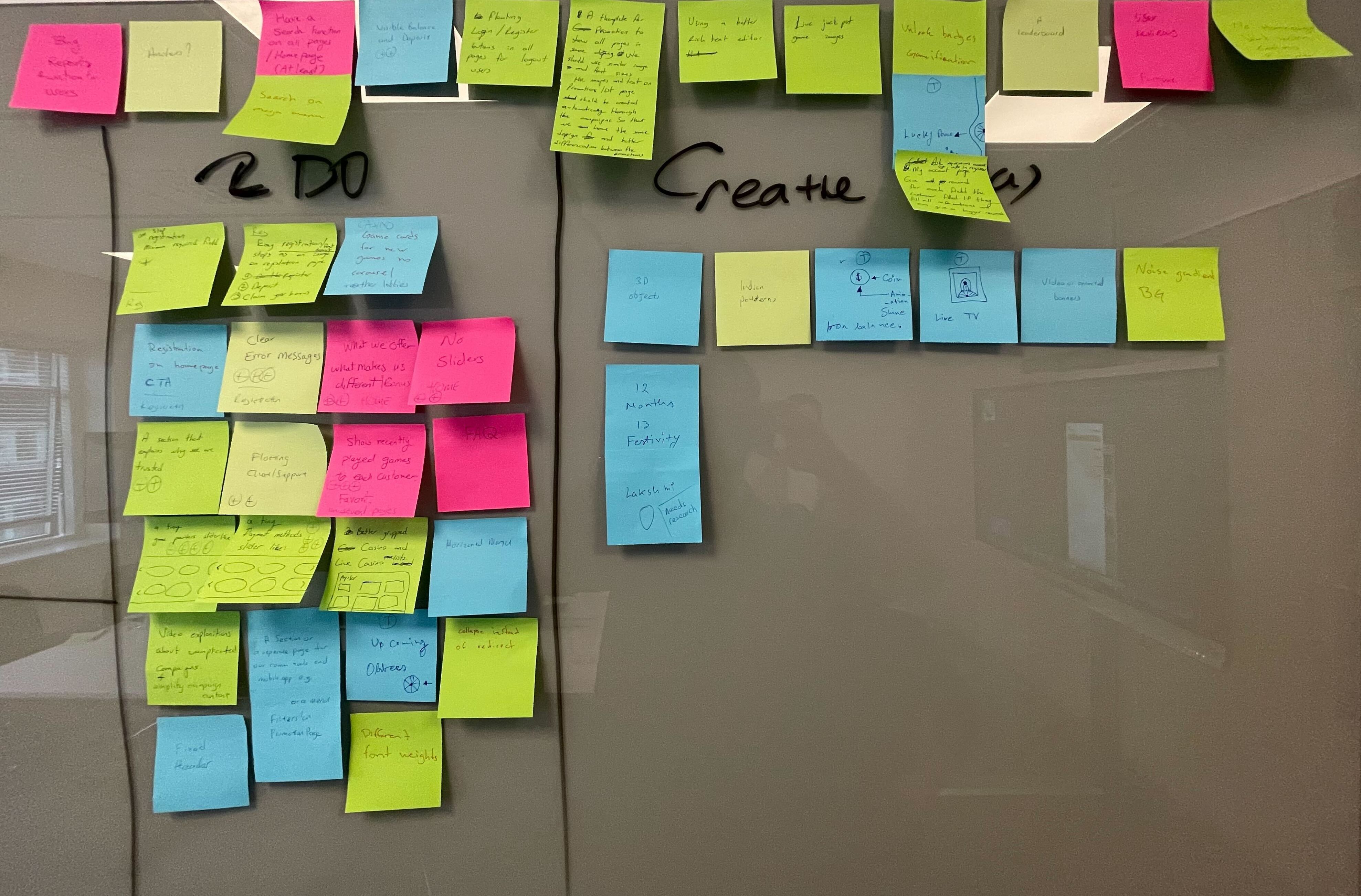 Workshop
This was a lightbulb moment for us - we realised that by streamlining the registration process and making it as hassle-free as possible, we could carve out a unique niche in the market. This would allow us to differentiate ourselves from the competition and win over users who were put off by the complicated registration processes offered by other companies.
Interviews
During the ideation phase of the project, I took on the crucial task of conducting user interviews to build new personas that would inform our design. Working closely with the team, we created an interview script with thought-provoking, open-ended questions that aimed to uncover our target audiences' deepest values, motivations, and daily routines.
Over the course of just four days, I remotely recruited and interviewed seven users who fit the profile of our target audiences. These interviews were incredibly insightful and provided us with a wealth of information that we could use to shape our product's design.
Persona
Thanks to these user interviews, I was able to identify and create three distinct personas, each with their unique traits, preferences, and behaviours. As we sifted through the user interview findings, we realised that only two of these personas (Strategy Steve & Newbie Nancy) fit our target markets, while the other (Bonus Hunter Benny) was more of a secondary audience .
These insights helped us to tailor our design and marketing strategies towards the two primary target markets, ensuring that we built a product that resonated with them and met their specific needs.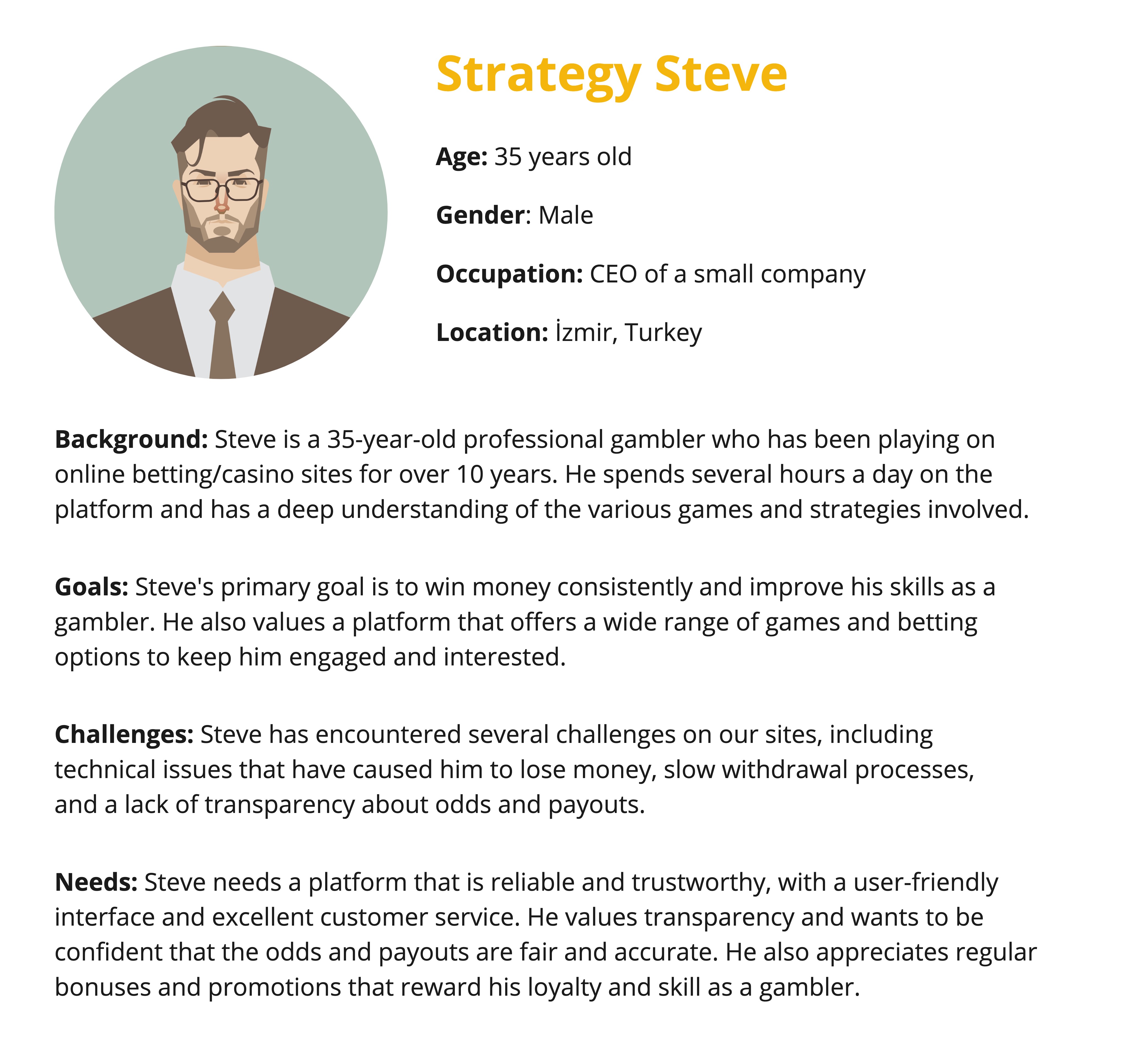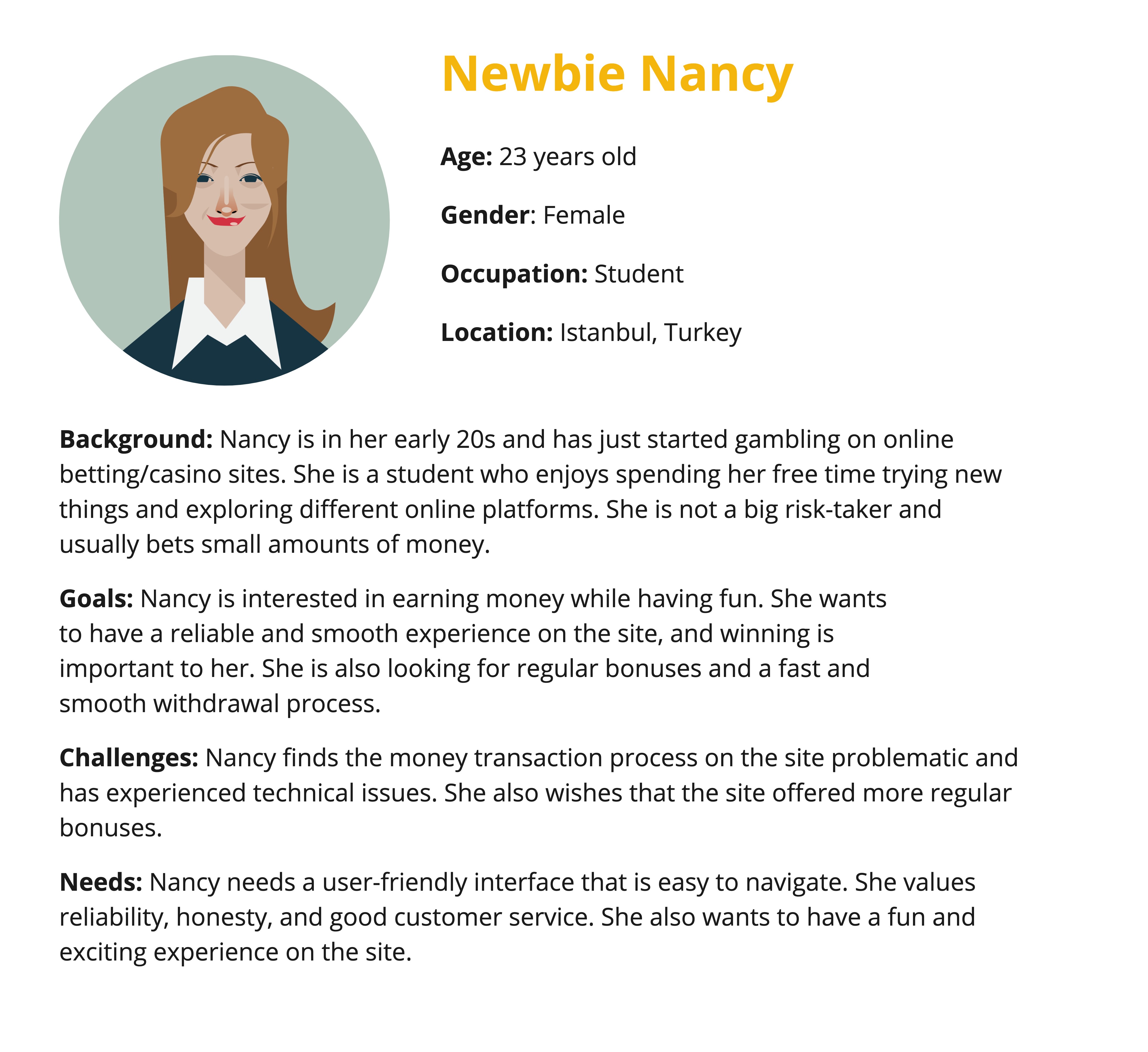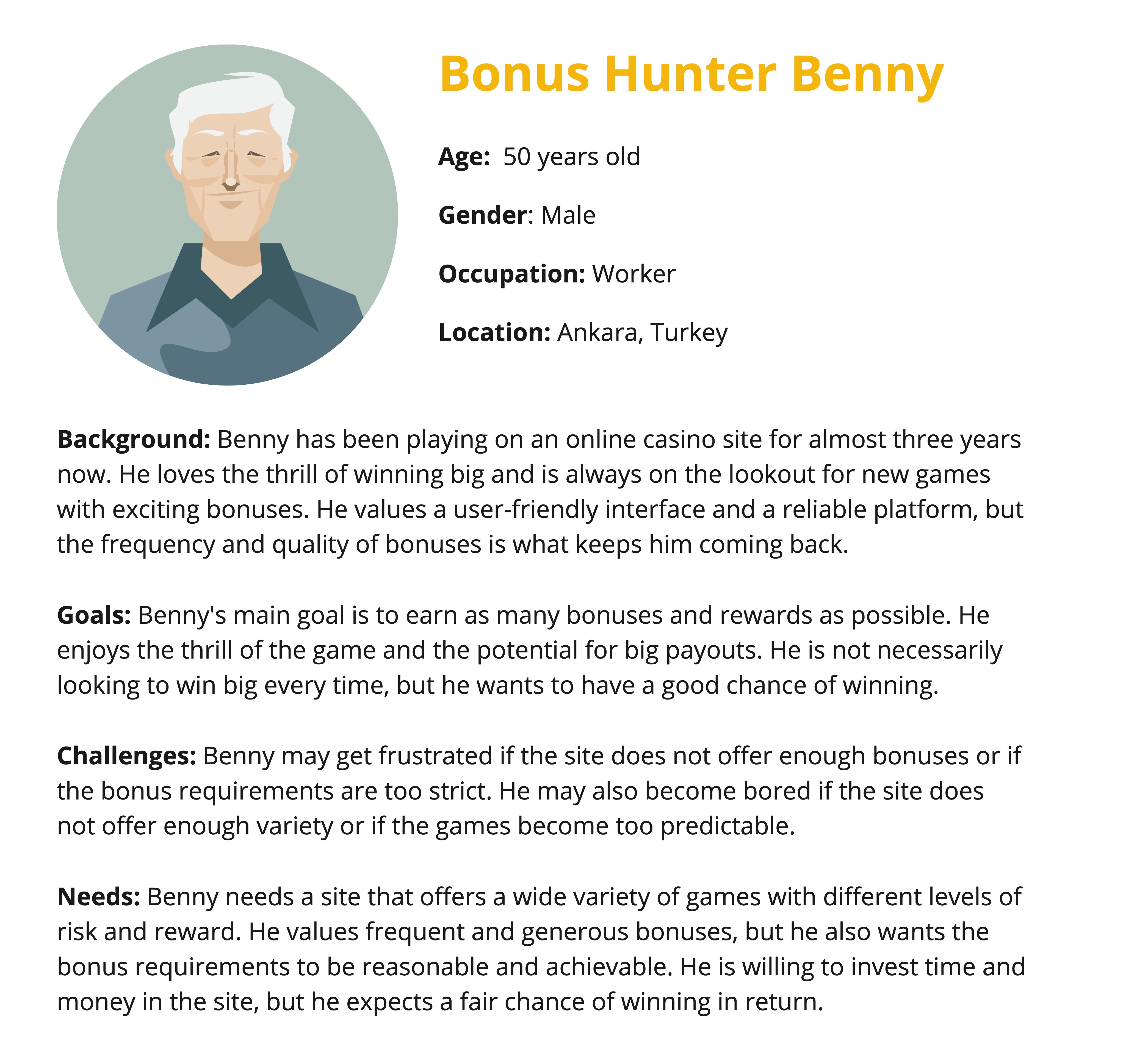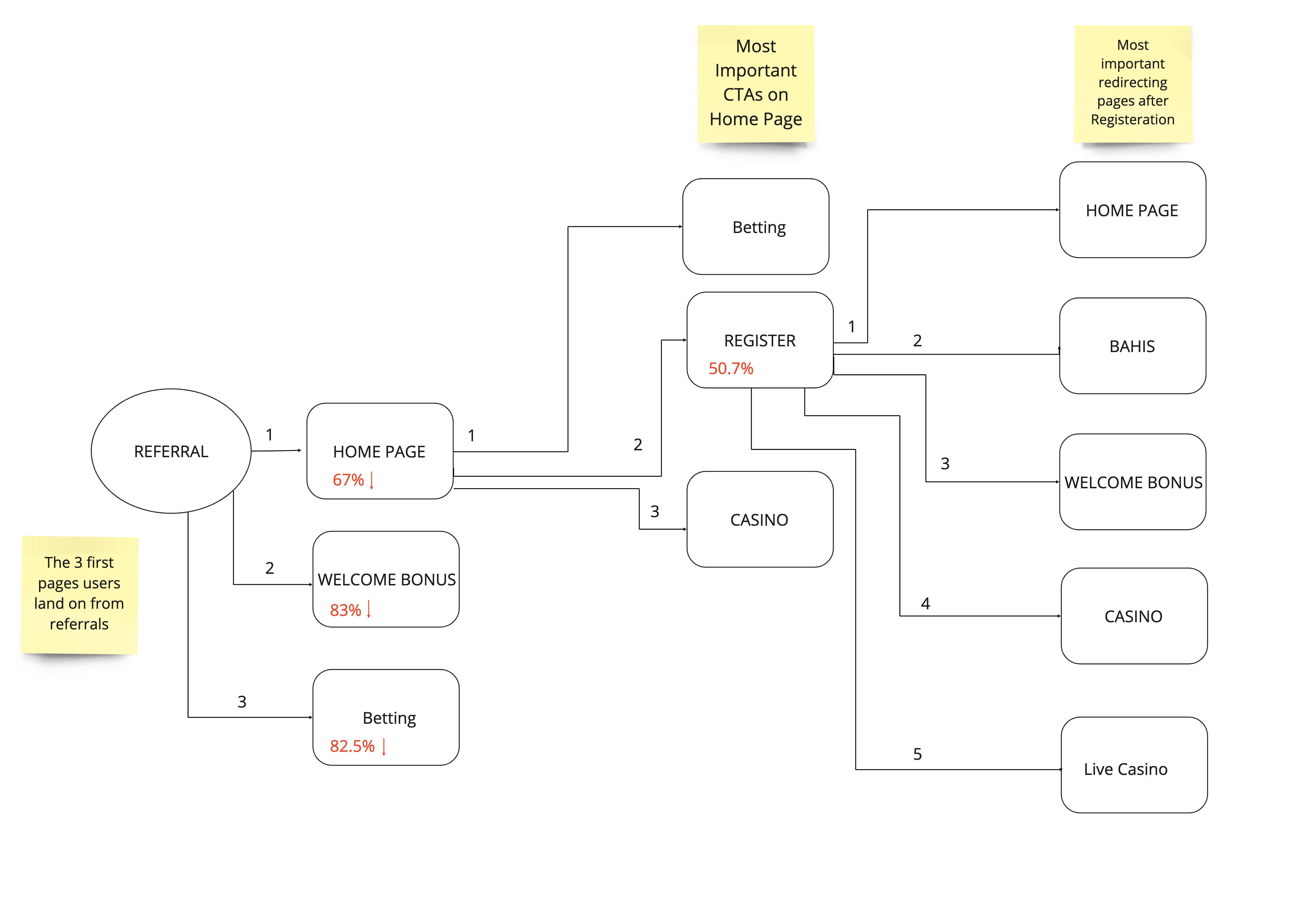 Behaviour Flow
I analysed the behavior flow of our website users to gain insight into what changes could be made to improve the registration process. By tracking how users navigate the site and where they end up after visiting the registration page, we were able to identify areas that needed improvement. This allowed us to make registration more intuitive and provide a better overall user experience.
Revamping Registration: More Pathways, More Success
As part of our UX redesign, we aimed to increase NRCs (New Registered Customers) by streamlining the registration process. Our hypothesis was simple - by offering multiple pathways for registration, including a condensed form on the homepage and a dedicated registration page, we could enhance the user experience and ultimately boost the NRC rate.
To achieve this goal, we carefully analyzed user behavior and feedback, identifying pain points and opportunities for improvement. By minimizing the number of required fields and simplifying the registration process, we aimed to remove obstacles and encourage more users to sign up.
Our research showed that providing multiple registration pathways could greatly improve the user experience and increase NRCs. We were excited to put our hypothesis to the test and see the positive impact on our registration numbers.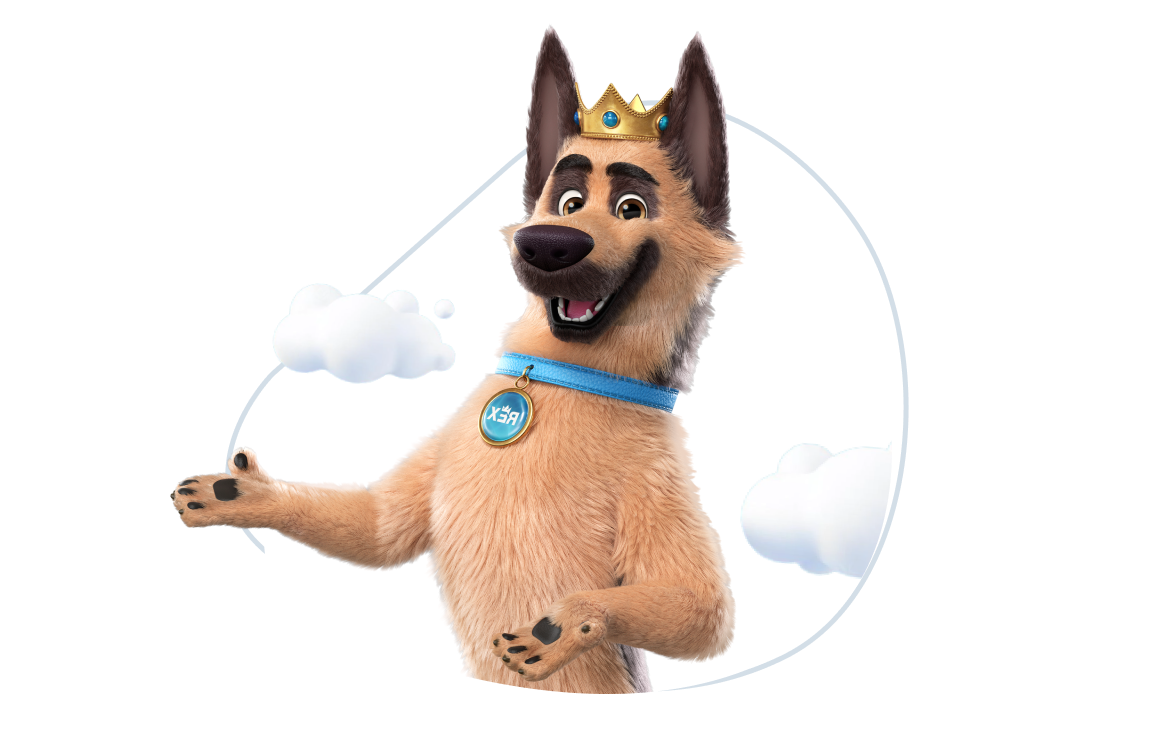 Rex: Our Trustworthy and Playful Brand Mascot!
As part of our effort to create a consistent and friendly user experience, we introduced Rex - a lovable German Shepherd - as the new face of our brand. Rex embodies the values of trust and playfulness that we want to convey to our users.
We believe that by having a recognizable and relatable character like Rex, we can create a deeper connection with our users and make our brand more approachable. Rex will be featured across various touchpoints, from our website to our social media channels, and we hope that his presence will bring a smile to our users' faces and build a lasting bond with our brand.
Designing for Better User Experience: Our Approach to Achieving UX Goals
Improving the site's speed and load times, to reduce frustration and improve engagement

Enhancing the design and functionality, to make the site more modern and appealing to users

Providing transparent and accurate information about odds and payouts, to build trust with users

Offering regular bonuses and promotions, to reward customer loyalty and skill as gamblers

Addressing specific user needs identified in surveys, including trial bonuses, smooth transactions, and a mobile app.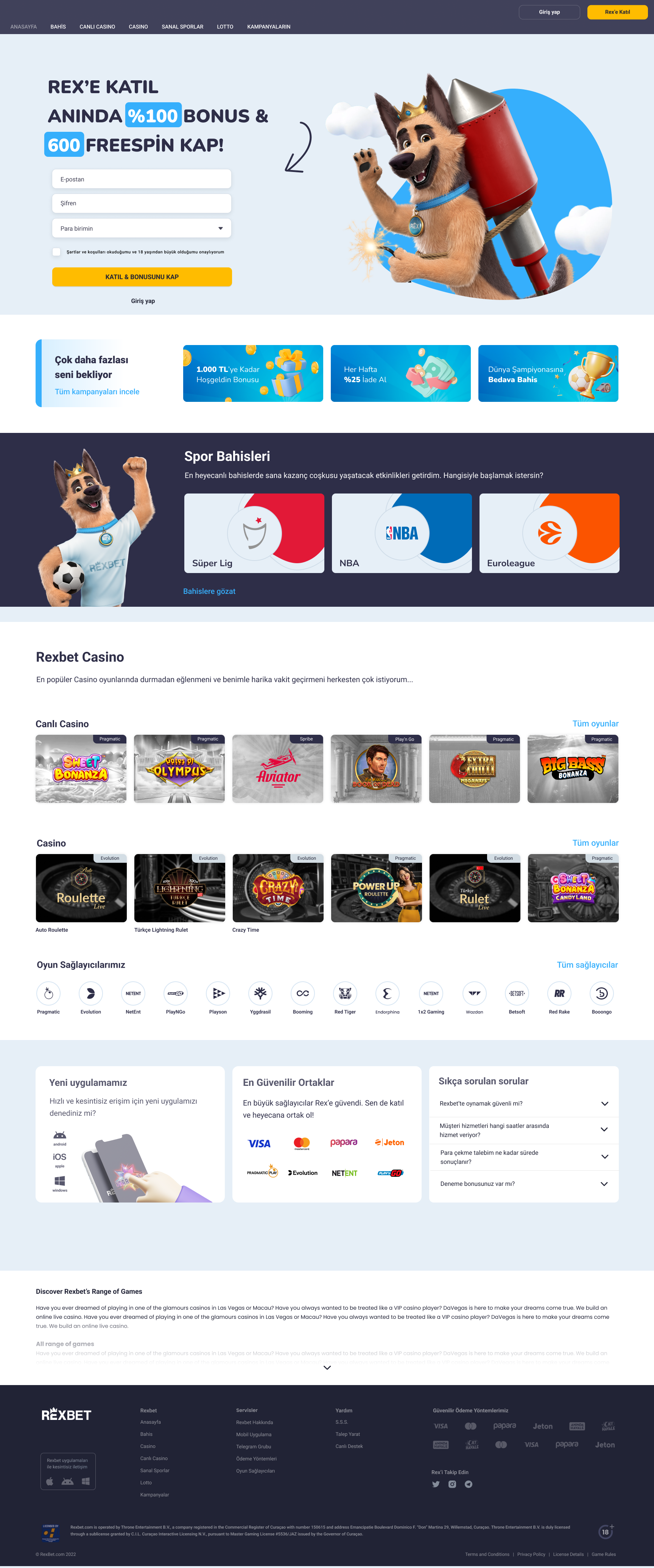 New NPS score: 50
Three months after redesign we ran another NPS survey. The NPS score for long term users (50) was higher than that of newly registered users (31), which indicated that the website has a more loyal and satisfied customer base among long-term users. From the analysis of long-term users' comments, we saw that reliability and trustworthiness are essential to them, and they appreciate a good selection of games and regular payouts. However, they would like to see improvements in the bonus system, and customer support. It is crucial to address these issues to retain the loyal user base and maintain the website's reputation.
Positive Feedback
Taking into account the average NPS score of 40.5 for this year, there has been a significant improvement compared to the score of 26 from last year. While there are still some negative comments regarding issues with money transactions, technical problems the overall sentiment seems to be more positive than negative. The positive comments mostly focus on the ease of use, the face-lift of the website, and the quality of games.
"Quite a reliable and enjoyable site. I have been playing on this site for about 3 years, and I recommend a reliable site."
"I tried it and saw the difference, Thank you!"
"Very good, nice site, I haven't had any problems so far, I will recommend it to my friends"
Learnings
It's important to note that while there has been an improvement in the NPS score, there are still areas that can be improved upon to further increase customer satisfaction. It may be helpful for the company to address the specific issues mentioned in the negative comments and to continue to make enhancements to the website and customer service to better meet the needs and expectations of their customers.
Thank you for reading my case study!
Want to work with me? Feel free to contact me!
...or just say hello on my social media.